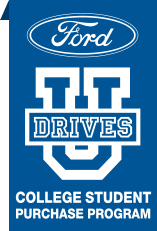 Graduate To A New Ford
Get Your $500 Student & Graduate Bonus Cash
APPLY FOR FINANCING
VIEW INVENTORY
We know tuition and books are expensive. That's why we developed the College Student Purchase Program. College students and recent graduates are eligible for a $500 incentive, plus great rates through Ford Credit when you purchase or lease a new Ford vehicle.
ACTIVE COLLEGE/TRADE SCHOOL STUDENTS: Student is enrolled Full-time OR Half-time based on the specifications of an accredited Four-Year College/University, Junior College, Community College, or Trade School that the student is attending.


ACTIVE GRADUATE STUDENTS: Student is currently enrolled based on the specifications of an accredited Graduate School program.


RECENT COLLEGE GRADUATES: Student has graduated and is within 3 years from their date of graduation. For example, student graduates May 6, 2017 – they will be eligible until May 31, 2020. A student graduated on May 4, 2015, they are eligible through May 31, 2018.


HIGH SCHOOL SENIORS OR RECENT HIGH SCHOOL GRADUATES WITH LETTER OF INTENT TO ATTEND QUALIFYING UNIVERSITY: Student must have completed all requirements for graduation to qualify using an anticipated or future graduation date, and have can provide Letter of Intent to attend a qualified university.


COLLEGE STUDENT INTERNSHIP PARTICIPANTS, TRADE SCHOOL APPRENTICESHIPS AND MEDICAL STUDENT RESIDENCIES NOW QUALIFY WITH THE FOLLOWING RESTRICTIONS: Student has attended or will attend college classes again between May 1, 2015 and January 2, 2019.


PROOF OF STUDENT ELIGIBILITY
Copy of diploma
Copy of final transcript
Dated letter of intent (valid for no more than 6 months)
Student must be currently enrolled in a minimum of 2 classes or an equivalent of 6 credit hours
Proof of enrollment status

Current class schedule
Report card
Dated letter from school confirming enrollment